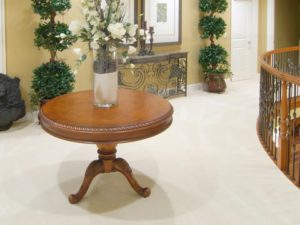 Carpet, Upholstery, Cleaning and Fabric Protection – Tampa – Clearwater – St. Petersburg
Carpet and Upholstery Cleaning
Fair and reasonable prices for quality results and extraordinary customer service. Our customers keep coming back to us for a reason.
Carpet Cleaning Services
Many homes and offices have carpeting in at least one area, if not more. In many rooms, it is an excellent alternative to hard surface floors, especially if you have children or pets, because the surface is softer, quieter and warmer to walk across with bare feet. However, carpeting can pick up dirt very easily, and once this dirt becomes embedded, your carpet begins to show it. If you want to keep your carpets in tip-top condition and you are in the Tampa FL area, call Carter's Floor and Surface Care for professional carpet cleaning services. We offer high quality services for a fair price.
Walking across a lush, soft carpet is a luxurious feeling, especially when the carpet looks and feels as clean as it did on the day that it was first bought. If your carpet is beginning to look dirty, it certainly won't feel as soft and clean as it used to. Breathe new life back into your carpet by arranging carpet cleaning in Tampa with Carter's Floor and Surface Care.
Using non-toxic processes, our carpet cleaning team is able to remove dirt which is deeply embedded in the fibers of a carpet, helping to restore the original colors to the carpets. The techniques which are used will help to get rid of everyday dirt and grime which builds up on a carpet over time, as well as being able to treat food and drink stains, pet related stains and stains caused by flood damage.
Using some of the best tools for carpet cleaning we can do a thoroughly professional job on any carpet. Carpet cleaning doesn't get better than this.
Fine Upholstery Cleaning
At Carter's Floor and Surface Care we have decades of experience cleaning and protecting fine upholstery. Kids, pets, guests, and general usage all take a toll on your furniture. Our professional technicians are thoroughly educated and trained in proper cleaning methods and solutions for your furniture, from removing dirt, dust, and allergens trapped deep within the upholstery fibers to applying protective treatments. Our highly effective cleaning process is safe and healthy, and leaves your furniture refreshed and inviting.
Our services include:
Pre-inspection for soil, damage, or any potentially permanent stains
Service area preparation, such as moving furniture not being cleaned
Pre-vacuum
Pretreat stains and spills to emulsify problem areas
Soil extraction and rinse
Application of protective treatment (additional cost)
Speed drying time with blower
Post inspection with client to review the quality of service
Fabric Protection Treatment
Choosing to apply fabric protection is the best possible way to protect your new upholstered furniture and to keep it looking new. Treated upholstery will last longer, look better for longer, and clean easier. Manufacturer-applied stain protection doesn't last forever. Without protection, spills, dirt, and grime can become permanent stains. We apply a non-allergenic, odorless spray to all surfaces of the upholstered item. The application 'wicks' into the fibers of the fabric creating a protective barrier against soil and stains.
Fabric Protection Treatment Does NOT:
Change the look of the fabric
Change the feel of the fabric
Did you know?
Not only does a fabric protection treatment create a barrier against stains and spills, it has been shown to provide a barrier against the dirt and dust particles that cause excess abrasion and can cause premature fabric wear.
Contact us today to discuss your upholstery cleaning needs. Be sure to visit our carpet and textiles care page for helpful tips for cleaning spills and regular maintenance and a free, downloadable Carpet and Textiles Care Guide.
---
Are you in the Tampa area and need a quality carpet cleaner or upholstery cleaning services? Contact us for a free estimate.